Take Care Community Outreach, Inc.
Dedicated to addressing health disparities through advocacy, health promotion, and education.
| | |
| --- | --- |
| Posted on July 16, 2013 at 10:24 PM | |
Happy July Friends of Take Care Community!
Thanks everyone for the support! I have sincerely enjoyed my journey thus far!  July is LUPUS Awareness Month and I must admit, this one was tough for me!  Lupus is a heredity disorder and often runs in families for generations.  Let's focus on the signs and symptoms of Lupus and what to do if you suspect you or a loved one may have Lupus.
What is Lupus?
Simplified:  Lupus is an autoimmune disorder in which your immune system attacks healthy cells and tissues instead of harmful cells.  This act often damages your skin, joints, blood vessels, and some organs.  
What makes this disease so nonspecific is that there are several different types or classifications of Lupus, the most common being  Systemic Lupus Erythematosus, which is broad and affects many different body systems.  
Lupus is a lifelong disease without a current cure, but many different treatment options.  Lupus will have its "quiet and active" cycles where one may feel healthy and then have a flare up.  
During a flare up, you may experience symptoms.  Quiet times, often referred to as "remission", are when you may have no symptoms.  A period of remission may last anywhere from a month to years. (NIH: National Institute of Arthritis and Musculoskeletal and Skin Diseases)
What are the Risk Factors?
As stated before, Lupus is autoimmune, meaning it is caused by antibodies naturally present in the body. The cause of these cells attacking healthy cells is unknown at this point. Lupus cannot be transmitted or caught.  Risk factors are as follows:
Gender- Lupus is seen mostly in women (NIH: National Institute of Arthritis and Musculoskeletal and Skin Diseases). 
Race- Lupus is more commonly seen in women of African American, Hispanic, Asian, and Native American decent. (NIH: National Institute of Arthritis and Musculoskeletal and Skin Diseases). 
Taking hormones or other medications such as hydralazine and minocyclne. (Micromedix: CareNotes/Lupus)
What are Some Signs and Symptoms of Lupus?
The symptoms are very broad and can be a sign of a number of problems, so as always, I suggest a thorough medical history and exam be performed by a Physician!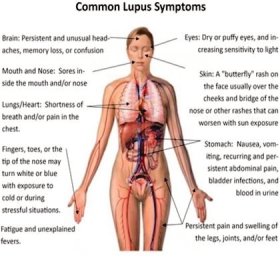 (Photo sited via:
http://www.natural-homeremedies.com/
)
Many women will become alarmed by a very distinguishing symptom of Lupus because it occurs on the face and may not be as vague or as easy to disguise. This symptoms is referred to as Malar or "Butterfly Rash".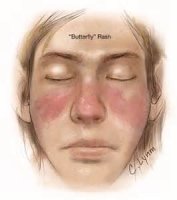 (Photo sited via: 

pdfcast.org

)




What testing is done?



Lupus can be diagnosed by:

A simple blood test that may show inflammation, infection or a common symptom, anemia. Any one test often cannot give a diagnosis of Lupus alone; but by putting symptoms together in a complete clinical picture a doctor can diagnosis and begin treatment.




Treatment can range from:

Simple pain management to immune suppression, as this disorder is different from person to person.

 


Again Community, As I've done in the past, I continue to urge you all to find ONE DAY in your year for a health screening by a qualified healthcare professional in your area. 

Knowledge is Power, and Prevention is Key! 




Don't forget to leave any feedback or comments. Enjoy your summer, and TAKE CARE!

 


Take Care Community Outreach Volunteer Nurse,

Denise Starr, RN, CEN



Categories: Nurse Denise's Notes

0

/